Customer Support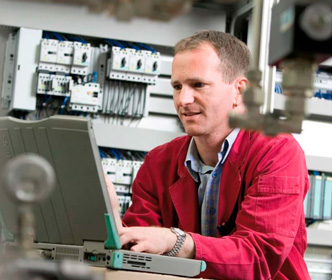 Customer support
Η εταιρεία μας δίνει ιδιαίτερη βαρύτητα στην τεχνική υποστήριξη των παρεχόμενων μηχανημάτων και εξοπλισμού που διαθέτει. Η εγκατάσταση κάθε μηχανήματος συνιστά την συνεχή και στενή συνεργασία μας με τον εκάστοτε πελάτη, ώστε να του γίνει η απαραίτητη εκπαίδευση και παροχή των απαραίτητων πληροφορίων και τεχνικών εγχειριδίων, που αφορούν την απρόσκοπτη λειτουργία και συντήρηση του μηχανήματος.
Στη συνέχεια βρισκόμαστε πάντα κοντά στον πελάτη, ώστε να βεβαιωθούμε ότι η ένταξη του νέου μηχανήματος στην παραγωγική του διαδικασία γίνεται ομαλά κι απροβλημάτιστα. Τέλος κατέχουμε τις απαραίτητες γνώσεις και εφόδια για την άμεση τεχνική υποστήριξη όλων των προϊόντων που διαθέτουμε, ώστε οι πελάτες μας να νοιώθουν εμπιστοσύνη και ασφάλεια για την επιλογή τους.
Service
Our goal has always been to earn the trust and satisfaction of our customers. All our products are covered by manufacturer's warranty in case any problem occurs.In case you have problems with the installation or operation of any product, please directly contact our technical department: 2106547886
Return
In case you wish to send us a product for service or repair, please, fill out this form and enclose it in the package. You can send your item at your own cost and responsibility, in any way you wish or with Speedex Courier.
Minimum fee

A fee of 30 euro plus VAT is charged for diagnosis in case the recommended service is not accepted by the customer. The same applies to products that are still under warranty, in case that no malfunction is detected by our service department.
Our Clients